The Twin Cities of Minneapolis and St. Paul are not just known for their stunning natural beauty and vibrant culture but also for their exceptional educational institutions. Whether you're a prospective student or simply curious, this blog post will serve as your guide to the top colleges and universities in this thriving metropolitan area.
University of Minnesota – Twin Cities: The largest and most renowned institution in the Twin Cities, the University of Minnesota, offers a wide range of programs, from liberal arts to cutting-edge research in various fields.
Hamline University: With a strong focus on liberal arts education and a commitment to community engagement, Hamline University has been a beacon of academic excellence for over 160 years.
Macalester College: Known for its rigorous academic programs and a commitment to global citizenship, Macalester College consistently ranks among the top liberal arts colleges in the nation.
St. Catherine University: St. Catherine University has a rich history of empowering women and offers programs in healthcare, business, and liberal arts. It's a hub for women's education and leadership.
Concordia University, St. Paul: With a strong emphasis on faith-based education, Concordia University provides diverse programs and a welcoming community for students.
Augsburg University: Augsburg University boasts a strong commitment to diversity, sustainability, and experiential learning, making it a unique choice for those seeking an engaged education.
Bethel University: Bethel University offers a wide array of Christian-based programs, from the arts to the sciences, all in a supportive and inclusive environment.
Minneapolis College of Art and Design: If you're interested in the arts, MCAD provides a creative haven with various programs in visual arts and design.
University of St. Thomas: This Catholic university offers a wide array of programs with a strong emphasis on ethics and values-based education.
Metropolitan State University: Metropolitan State University is a great choice for non-traditional students, offering flexible programs for working professionals.
Luther Seminary: For those pursuing theological studies, Luther Seminary provides a strong foundation for future leaders in the church and ministry.
North Central University: With a focus on Christian higher education, North Central University offers various programs in ministry and the arts.
Saint Paul College: As a community and technical college, Saint Paul College offers a diverse range of programs for career and technical education.
Conclusion: The Twin Cities of Minneapolis and St. Paul are brimming with educational opportunities, each institution offering its unique strengths and values. Be sure to explore these colleges and universities further to find the perfect fit for your academic and personal aspirations.
For college funding options CONTACT Xee Vang on LinkedIn.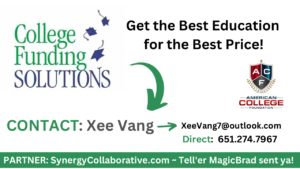 💰 💵💰💵💰
PERK: Synergy Collaborative Partners get "Cash Back" when they attend select events. Learn more about Synergy Collaborative PERKS, call MagicBrad at 612-242-6468