Planning a corporate event in the Twin Cities of Minneapolis and St. Paul, Minnesota, offers a unique opportunity to create memorable experiences that leave a lasting impression. To stand out in the competitive world of corporate gatherings, event planners need to harness the power of audio, video, lighting, and live entertainment. In this guide, we'll explore how these elements can be expertly integrated to craft unforgettable events in this vibrant metropolitan area.
The Importance of Memorable Experiences
Corporate events are more than just meetings; they are a chance to connect with clients, employees, and partners in a meaningful way. Creating memorable experiences fosters stronger relationships and sets the stage for successful business outcomes. When attendees leave with a sense of awe and excitement, your event becomes a topic of conversation long after it's concluded.
Audio Excellence
High-Quality Sound Systems: Start by investing in top-notch sound equipment. Crisp and clear audio ensures that presentations are heard, messages are conveyed effectively, and live entertainment is enjoyed to the fullest.
Professional Microphones: Equip your speakers and presenters with professional microphones to eliminate any potential audio hiccups. Wireless microphones provide mobility, allowing presenters to engage with the audience seamlessly.
Visual Impact
Cutting-Edge Video Displays: Enhance your event's visual appeal with state-of-the-art video displays and projection mapping. Whether it's showcasing presentations or creating immersive environments, vivid visuals captivate audiences.
LED Walls: LED walls provide dynamic branding opportunities and can display high-resolution graphics and videos. Incorporate them into your event's backdrop or create interactive experiences.
Lighting Magic
Mood-Setting Lighting: Lighting sets the ambiance and tone of your event. Use creative lighting schemes to transform venues into captivating spaces. Warm tones for networking events, dynamic lighting for product launches, and elegant lighting for galas are all possibilities.
Spotlight Moments: Highlight key moments during your event with spotlights and moving lights. From keynote speeches to awards ceremonies, focused lighting creates an unforgettable impact.
Live Entertainment
Musical Talent: Elevate your corporate event with live musical performances. Consider hiring local bands, solo artists, or even orchestras to provide a unique auditory experience.
Interactive Entertainment: Engage your attendees with interactive entertainment options such as magicians, comedians, or interactive games. These activities foster camaraderie and leave a lasting impression.
Local Flavor
When planning corporate events in Minneapolis and St. Paul, don't forget to incorporate elements that showcase the unique local culture. From featuring local cuisine to incorporating regional themes, these personalized touches resonate with attendees.
Conclusion
Creating memorable corporate events in the Twin Cities requires a strategic blend of audio, video, lighting, and live entertainment. By investing in these elements, event planners can craft experiences that inspire, educate, and entertain. Minneapolis and St. Paul offer a diverse array of venues and local talents to bring your vision to life. Ensure your next corporate event stands out, leaving a lasting impression on all who attend.
CONTACT: Ohmar Bliss on InstaGram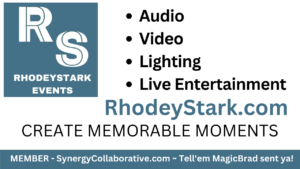 💰 💵💰💵💰
PERK: Synergy Collaborative Partners get "Cash Back" when they attend select events. Learn more about Synergy Collaborative PERKS, call MagicBrad at 612-242-6468