Welcome to the heart of the Midwest, where the vibrant Twin Cities of Minneapolis and Saint Paul come alive with creativity and innovation in event planning. If you're a meeting or event planning professional seeking to stay ahead of industry trends, connect with like-minded experts, and discover the latest innovations, look no further than the Minnesota Event Planning Expo.
The Synergy Collaborative is an affordable way for events suppliers to meet the event planners of the Twin Cities.
SEE: Synergy Collaborative Partners
Unlocking Opportunities: The Minnesota Event Planning Expo is your gateway to a world of opportunities in the dynamic field of event planning. Whether you're a seasoned professional or just starting in the industry, this expo promises an enriching experience, providing insights, resources, and connections that will elevate your events to new heights.
Top-Notch Educational Sessions: Immerse yourself in a series of thought-provoking educational sessions led by industry leaders and experts. Gain valuable knowledge on emerging trends, sustainable practices, and cutting-edge technologies that can transform your approach to event planning. From interactive workshops to insightful panel discussions, the expo offers a diverse range of learning opportunities tailored to meet the needs of today's event professionals.
Networking Extravaganza: Connect with a dynamic community of event planners, vendors, and suppliers from across the Twin Cities. The Minnesota Event Planning Expo provides a platform for networking, collaboration, and partnership building. Forge meaningful connections that can enhance your professional network, opening doors to new opportunities and collaborations that transcend the boundaries of the expo.
SEE: SynergyFirstThursdays.com
Showcasing Innovation: Witness the latest innovations in event planning tools, technologies, and services. Explore a diverse array of exhibitors showcasing everything from state-of-the-art event management software to sustainable decor options. Stay ahead of the curve by immersing yourself in the innovative products and services that can set your events apart in the competitive landscape.
SEE: SynergyShowcase.com

Local Flavor, Global Impact: Experience the unique blend of local charm and global perspective at the Minnesota Event Planning Expo. The Twin Cities boast a rich cultural tapestry, and this expo embraces the local flair while incorporating global trends. Discover how to infuse your events with the distinct personality of Minneapolis and Saint Paul, creating unforgettable experiences for your clients and attendees.
Conclusion: As the pulse of the event planning industry beats strong in the Twin Cities, the Minnesota Event Planning Expo stands as a beacon for professionals seeking to stay on the cutting edge. Elevate your events, expand your network, and embrace innovation at this must-attend expo. Join us in the heart of the Midwest and unlock the doors to a world of possibilities in event planning.
THIS POST SPONSORED BY
Tosha B.
Promoted Events Minnesota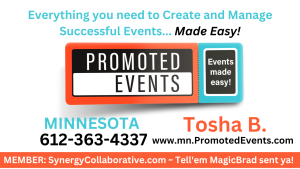 💰 💵💰💵💰
PERK: Synergy Collaborative Partners get "Cash Back" when they attend select events. Learn more about Synergy Collaborative PERKS, call MagicBrad at 612-242-6468