In the dynamic landscape of event planning, professionals are keeping a close eye on the resurgence of corporate events in the Twin Cities—Minneapolis and St. Paul. As we navigate the post-pandemic era, the pulse of business events is quickening, with major corporations like General Mills, 3M, Target Corporation, Best Buy, Deluxe Corporation, and Land O'Lakes leading the way.
General Mills' Innovative Gatherings: General Mills, a cornerstone of the Twin Cities business community, has shown a commitment to innovative corporate events. From product launches to employee appreciation days, the company is setting a precedent for engaging and impactful gatherings that inspire the broader industry.
3M's Collaborative Conferences: Known for its innovative spirit, 3M is bringing a collaborative approach to corporate events. Conferences hosted by 3M not only showcase cutting-edge technologies but also foster meaningful connections among attendees. Event planners can draw inspiration from 3M's emphasis on collaboration and knowledge-sharing.
Target Corporation's Strategic Meetings: Target Corporation, a retail giant headquartered in Minneapolis, has mastered the art of strategic meetings. From annual shareholder gatherings to internal leadership summits, Target exemplifies how meticulous planning and a clear agenda can elevate corporate events to new heights.
Best Buy's Employee-Centric Events: Best Buy, another retail powerhouse, places a strong emphasis on employee-centric events. As the demand for hybrid and remote work options continues, event planners can learn from Best Buy's initiatives to create engaging experiences that connect and motivate remote teams.
Deluxe Corporation's Personalized Touch: Deluxe Corporation, with its focus on business solutions, adds a personalized touch to corporate events. Tailoring experiences to the unique needs of attendees, Deluxe Corporation sets a standard for event planners looking to create memorable and impactful moments for their clients.
Land O'Lakes' Sustainable Gatherings: In an era of heightened environmental consciousness, Land O'Lakes stands out for its commitment to sustainable events. Event planners can explore eco-friendly practices, from venue selection to catering choices, inspired by Land O'Lakes' dedication to corporate social responsibility.
Conclusion: As the Twin Cities witness the reawakening of corporate events, event planners in the industry have a valuable opportunity to draw inspiration from the innovative approaches of local giants. Whether it's General Mills' creativity, 3M's collaboration, Target Corporation's strategy, Best Buy's employee focus, Deluxe Corporation's personalization, or Land O'Lakes' sustainability, each company offers a unique perspective that can shape the future of corporate events in Minneapolis and St. Paul. The resurgence is not just a return to business as usual but an evolution towards more meaningful, engaging, and purpose-driven corporate gatherings. Event planners, take note—there's a new era of corporate events unfolding in the Twin Cities.
NOTE: if you are a vendor of events and supply products and services like tent, rental, catering, limousine services, power, generators, photography, or anything that is needed for producing a successful event, you might find interest in joining the Synergy Collaborative or exhibiting in the Minnesota Event EXPO.
SEE ALSO: SynergyCollaborative.com
THIS POST SPONSORED BY: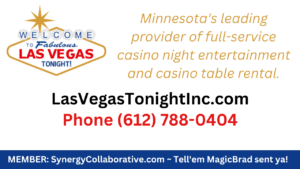 DISCLAIMER: This content was generated by CHAT-GDP, and may or may not be authentic.
💰 💵💰💵💰
PERK: Synergy Collaborative Partners get "Cash Back" when they attend select events. Learn more about Synergy Collaborative PERKS, call MagicBrad at 612-242-6468