TWIN CITIES EVENT PROFESSIONALS
Are you an event planner on the hunt for the ideal event space in the Western Suburbs of Minneapolis, Minnesota? Look no further! Nestled in the heart of the Land of 10,000 Lakes, this vibrant region offers a wealth of possibilities for hosting memorable events that leave a lasting impression on your clients and guests. In this guide, we'll explore the diverse event spaces, scenic locations, and amenities that make the Western Suburbs a top choice for your next gathering.
Why Choose the Western Suburbs of Minneapolis, Minnesota?
Proximity to the City: While the Western Suburbs offer a serene escape from the hustle and bustle of Minneapolis, they are conveniently close to the city center. This proximity allows you to access the city's amenities and attractions while enjoying a more relaxed setting.
Scenic Beauty: Minnesota is known for its breathtaking natural beauty, and the Western Suburbs are no exception. Lakeshores, parks, and lush green spaces abound, providing a stunning backdrop for your event.
Varied Event Spaces: Whether you're planning an intimate gathering or a grand celebration, the Western Suburbs offer a diverse range of event spaces to cater to your needs. From rustic barns to modern ballrooms, you'll find the perfect setting to match your event's theme.
Top Event Spaces in the Western Suburbs
Glenhaven Events: Situated on the shores of Lake Riley, Glenhaven Events is a picture-perfect venue for weddings, corporate events, and more. The elegant ballroom and stunning outdoor spaces provide flexibility for various event styles.
Medina Entertainment Center: If you're seeking a versatile space for concerts, trade shows, or private parties, Medina Entertainment Center offers a spacious and modern environment with state-of-the-art audiovisual equipment.
The Outing Lodge at Pine Point: For a touch of old-world charm, The Outing Lodge at Pine Point is a historic estate surrounded by picturesque gardens and woodlands. It's perfect for intimate gatherings and romantic weddings.
Hilton Garden Inn Minneapolis/Eden Prairie: This hotel boasts excellent meeting facilities, making it an ideal choice for conferences and corporate events. Its convenient location and modern amenities ensure a seamless event experience.
Your Authentic Reflections: This space is ideal for small intimate groups, photo and video shoots, workshops, team meetings or casual socials. CONTACT: Elizabeth Peak on LinkedIn or at Your Authentic Reflections
Key Considerations for Event Planners
When scouting for the ideal event space in the Western Suburbs of Minneapolis, keep these factors in mind:
Capacity: Determine the number of attendees you expect and ensure the venue can comfortably accommodate them.
Amenities: Check if the venue provides essential facilities like catering, audiovisual equipment, and event coordination services.
Location: Consider transportation options and accessibility for your guests.
Budget: Stay within your budget by getting clear pricing information upfront and exploring any potential package deals.
Ambiance: Choose a space that complements your event's theme and atmosphere.
Reviews and Recommendations: Seek feedback from other event planners who have used the venue to ensure a positive experience.
Flexibility: Confirm the venue's policies on setup and teardown times to ensure they align with your event schedule.
Conclusion
The Western Suburbs of Minneapolis, Minnesota, offer a treasure trove of event spaces that cater to a variety of needs and tastes. Whether you're planning a wedding, corporate conference, or a special celebration, this region has the perfect setting waiting for you. The scenic beauty, proximity to the city, and diverse range of venues make the Western Suburbs an excellent choice for event planners looking to create unforgettable experiences for their clients and guests. Start your journey today and unlock the perfect event space in this charming Minnesota region.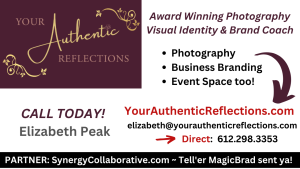 PARTNER: SynergyCollaborative.com
💰 💵💰💵💰
PERK: Synergy Collaborative Partners get "Cash Back" when they attend select events. Learn more about Synergy Collaborative PERKS, call MagicBrad at 612-242-6468