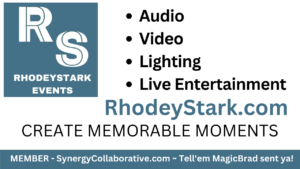 Create Memorable Moments
DJ's that know the right song to play at the right time.
Sound that is crystal clear to hear those important words.
Lighting, video, and staging solutions that encapsulate heartfelt sentiments, moments of personal discovery, or professional insights to growing and maintaining a business.
RhodeyStark (RS) utilizes elements of sound, lighting, video, and live entertainment to create memorable moments.
WEBSITE: https://www.rhodeystark.com/
CONTACT: Omaur Bliss on Facebook
Become a Synergy Collaborative Member – Go Here
Register for the Minnesota Event EXPO – Go Here
Synergy PERK: Ask "MagicBrad"about the Synergy Collaborative REBATE program! Call 612-242-6468