Here is a list of some popular events, venues, and facilities located in Minneapolis, Minnesota:
Events:
Minneapolis Aquatennial – A summer festival featuring parades, fireworks, and water-related activities.
Twin Cities Marathon – An annual marathon and running event.
Art-A-Whirl – A large art studio tour and open house event.
Holidazzle – A holiday-themed festival with lights, food, and entertainment.
Minnesota State Fair – One of the largest state fairs in the United States, held in nearby St. Paul.
Venues:
Target Field – Home to the Minnesota Twins MLB team.
U.S. Bank Stadium – Home to the Minnesota Vikings NFL team and host to various events and concerts.
Minneapolis Convention Center – A major convention and meeting facility.
Guthrie Theater – A renowned regional theater company.
First Avenue – A historic music venue known for hosting concerts by famous artists.
Facilities:
Minneapolis Institute of Art – A world-class art museum.
Walker Art Center – An art museum known for contemporary and modern art.
Mall of America – Located in nearby Bloomington, it's one of the largest shopping malls in the United States.
Target Center – A multi-purpose arena hosting concerts, sports events, and more.
University of Minnesota – A major educational institution with various campuses and facilities in the city.
Please note that this list is not exhaustive, as Minneapolis has a wide range of events, venues, and facilities to offer.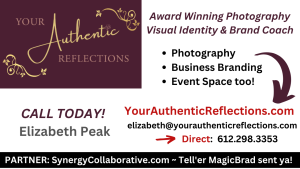 💰 💵💰💵💰
PERK: Synergy Collaborative Partners get "Cash Back" when they attend select events. Learn more about Synergy Collaborative PERKS, call MagicBrad at 612-242-6468