Introduction: Welcome to Phancy Faces Face Painting, the premier face painting service in the vibrant Twin Cities of Minneapolis and Saint Paul. We specialize in adding a touch of magic and creativity to events, captivating both children and adults alike. Our professional face painters are skilled artists who transform faces into beautiful canvases, ensuring an unforgettable experience for your guests. In this article, we will explore the remarkable services offered by Phancy Faces Face Painting, catering specifically to event planners in the Twin Cities region.
The Art of Face Painting: Face painting is a timeless art form that combines imagination, skill, and color to create captivating designs on the human face. At Phancy Faces, our talented team of face painters excels in transforming ordinary faces into extraordinary works of art. Whether it's a birthday party, corporate event, festival, or any other occasion, our artists bring a sense of wonder and joy to every gathering.
Exceptional Services for Event Planners: Event planners in the Twin Cities are always in search of unique and memorable experiences for their clients. Phancy Faces Face Painting understands this need and offers tailored services to cater to event planners' requirements. We collaborate closely with planners to ensure our face painting services align with the event's theme and atmosphere. Our team works diligently to enhance the overall ambiance, creating an immersive experience for attendees.
Customizable Designs and Themes: Phancy Faces takes pride in offering a wide range of customizable designs and themes to suit any event. Whether it's superheroes, princesses, animals, or abstract art, our face painters can bring any concept to life. We understand that each event is unique, and our artists are skilled in adapting their designs to match specific themes, ensuring a cohesive visual experience. From small private parties to large-scale corporate galas, Phancy Faces delivers unparalleled creativity and attention to detail.
Professionalism and Safety: When it comes to face painting, safety is of utmost importance. Phancy Faces strictly adheres to hygiene standards and uses high-quality, hypoallergenic paints that are gentle on the skin. Our professional face painters are trained in proper sanitization techniques and follow strict protocols to ensure the well-being of every participant.
Testimonials and Client Satisfaction: Don't just take our word for it—our satisfied clients speak for themselves! Phancy Faces has a strong track record of delivering exceptional face painting services that leave lasting impressions. Event planners throughout the Twin Cities have praised our artistic prowess, professionalism, and ability to engage guests of all ages. Our commitment to customer satisfaction and attention to detail sets us apart as the go-to face painting service for events in Minneapolis and Saint Paul.
Conclusion: Phancy Faces Face Painting offers event planners in the Twin Cities a unique opportunity to elevate their events and create unforgettable experiences for attendees. Our talented artists, customizable designs, professionalism, and unwavering commitment to safety make us the top choice for any occasion. Whether you're planning a children's birthday party, a community festival, or a corporate gala, Phancy Faces is here to bring a touch of magic to your event. Contact us today and let us turn your vision into reality with our exceptional face painting services. Get ready to wow your guests and make your event an extraordinary affair they'll remember for years to come!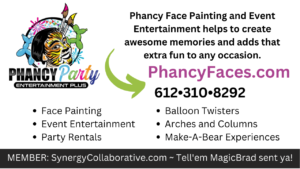 💰 💵💰💵💰
PERK: Synergy Collaborative Partners get "Cash Back" when they attend select events. Learn more about Synergy Collaborative PERKS, call MagicBrad at 612-242-6468