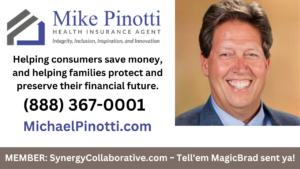 Mike Pinotti is a licensed health insurance agent marketing his services through a website "Integrityhealthinsurancemidwest.com". He works to find health insurance for clients through ACA (Obama Care), private insurance, small group insurance of Medicare. He is appointed with several major insurance companies so his clients can make an informed decision regarding their health care dollars. Our Clients are in every state where we are licensed including Minnesota, Wisconsin, Iowa, Nebraska, South Dakota, Texas, Missouri, Arkansas, Mississippi, and the rest.
WEBSITE: https://www.michaelpinotti.com/
MEMBER: SynergyCollaborative.com ~ Tell'em MagicBrad sent ya!
💰 💵💰💵💰
PERK: Synergy Collaborative Partners get "Cash Back" when they attend select events. Learn more about Synergy Collaborative PERKS, call MagicBrad at 612-242-6468