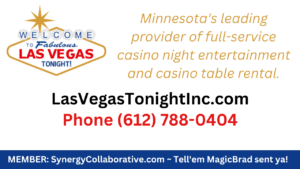 Las Vegas Tonight: Minnesota's leading provider of full-service casino night entertainment and casino table rental. We create a fun and exciting Las Vegas style experience with the look and feel of a real casino!
Our staff is committed to providing the quintessential casino experience in the comfort of your chosen setting. The party planners will work with you to create an attractive atmosphere, and the dedicated group of professional dealers will ensure your guests thoroughly enjoy the casino party of their dreams.
Las Vegas Tonight features the highest quality equipment the industry has to offer, as well as the most popular and one-of a kind games guaranteed to excite both the novice and expert players.
Our Mantra is to curate a multi-faceted, luxury casino party experience for the Twin Cities and upper Midwest.
WEBSITE: https://www.lasvegastonightinc.com/
PHONE: (612) 788-0404
SEE ALSO: https://www.dunknjump.com/
Become a Synergy Collaborative Member – Go Here
Register for the Minnesota Event EXPO – Go Here
💰 💵💰💵💰
PERK: Synergy Collaborative Partners get "Cash Back" when they attend select events. Learn more about Synergy Collaborative PERKS, call MagicBrad at 612-242-6468