Are you an event planner in the vibrant Twin Cities of Minneapolis and St. Paul, searching for the perfect entertainment option to dazzle your clients and guests? Look no further! The Glamorous Photo Mirror presented by Austin Lam is your ticket to creating unforgettable, interactive experiences that will leave a lasting impression. In this blog post, we'll dive into the world of this captivating entertainment choice, tailored to meet the needs of event planners like you.
What Is the Glamorous Photo Mirror? The Glamorous Photo Mirror is not your average photo booth; it's an exquisite blend of technology and artistry. It's a full-length, interactive mirror that captures stunning photos of your guests, adding a touch of glamour to any event. It's sleek, stylish, and sure to be the center of attention at your next gathering.
Why Choose the Glamorous Photo Mirror for Your Event?
Interactive Entertainment: This mirror is not just a prop; it's an experience. Guests can interact with it, write messages, and customize their photos with fun digital props and filters.
High-Quality Photos: The Glamorous Photo Mirror uses top-tier equipment to capture high-resolution photos, ensuring that your guests look their best.
Custom Branding: For corporate events, you can brand the mirror with your company's logo or event theme, creating a memorable marketing opportunity.
Instant Sharing: Photos can be instantly shared via social media or email, increasing the reach and engagement of your event.
Keepsake Memories: Guests receive instant prints as a keepsake, reminding them of your event long after it's over.
How the Glamorous Photo Mirror Enhances Twin Cities Events Whether you're planning a wedding, corporate event, or social gathering in Minneapolis or St. Paul, the Glamorous Photo Mirror can add that extra touch of magic. Here's how it can enhance various types of events:
Weddings: Elevate your wedding by offering guests a unique way to capture moments and create lasting memories. It's perfect for wedding favors, and the bride and groom can cherish the photo album forever.
Corporate Events: Impress clients and partners with this cutting-edge entertainment option. You can even gather valuable customer data through the mirror's interactive features.
Social Celebrations: From birthdays to reunions, the Glamorous Photo Mirror adds fun and flair to any social event, making it an instant hit among guests of all ages.
How to Book the Glamorous Photo Mirror by Austin Lam Booking the Glamorous Photo Mirror is a breeze. Simply reach out to Austin Lam's team to discuss availability, pricing, and customization options tailored to your event's specific needs. Secure your date and let the mirror work its magic.
Conclusion: As an event planner in the Twin Cities of Minneapolis and St. Paul, you're always on the lookout for innovative and exciting entertainment options. The Glamorous Photo Mirror presented by Austin Lam checks all the boxes: interactive, memorable, and perfect for a wide range of events. Elevate your next event and create unforgettable memories by choosing the Glamorous Photo Mirror—it's an investment in the success and enjoyment of your event that your clients and guests won't soon forget. Contact Austin Lam today and make your event shine like never before!
WEBSITE: https://www.glamorousphotomirror.com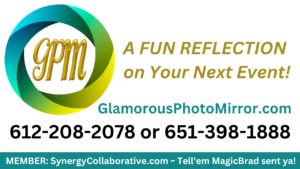 💰 💵💰💵💰
PERK: Synergy Collaborative Partners get "Cash Back" when they attend select events. Learn more about Synergy Collaborative PERKS, call MagicBrad at 612-242-6468