Fundraiser events in the Twin Cities of Minneapolis and St. Paul, Minnesota, have become a staple of the local community. These events bring people together to support various charitable causes and nonprofit organizations. While traditional methods like auctions, raffles, and silent auctions have been successful, adding a touch of excitement with casino games like blackjack from Las Vegas Tonight Inc can take your fundraiser to the next level and significantly increase donations.
The Vibrant Twin Cities Fundraiser Scene
The Twin Cities of Minneapolis and St. Paul are known for their strong sense of community and a robust commitment to philanthropy. There is a multitude of nonprofit organizations, charities, and causes that rely on the generosity of the local community to carry out their missions effectively. Fundraiser events play a crucial role in raising funds for these organizations and provide an opportunity for people to come together for a good cause.
The Need for Creative Fundraising Ideas
In recent years, fundraiser events have evolved beyond traditional methods. While auctions and charity dinners are still popular, organizers are constantly looking for creative ways to engage donors and make their events stand out. This is where incorporating casino games, like blackjack, from a reputable provider like Las Vegas Tonight Inc, can make a significant impact.
Why Casino Games Make a Difference
Excitement and Entertainment: Casino games like blackjack add an element of fun and excitement to your fundraiser event. They create a lively atmosphere that encourages social interaction, making the event more enjoyable for attendees.
Increased Engagement: People are more likely to participate in a fundraiser when they are having a good time. Casino games keep guests engaged and coming back for more, increasing the opportunities for donations.
Competitive Spirit: Blackjack, roulette, and other casino games introduce an element of healthy competition. Guests can compete against one another, which can spur higher contributions.
Higher Donations: As attendees enjoy the games and become more immersed in the event, they are more likely to contribute to the cause. The added entertainment value can encourage attendees to be more generous.
Diversified Revenue Streams: Casino games provide an additional revenue stream for your event. The profits from these games can be used to support the charity or nonprofit, enhancing the overall fundraising effort.
Las Vegas Tonight Inc: Your Casino Games Partner
When it comes to incorporating casino games into your fundraiser event in the Twin Cities, Las Vegas Tonight Inc is a trusted and experienced provider. They offer professional-grade casino equipment, friendly dealers, and a variety of games, including blackjack, poker, roulette, and craps. Their team will ensure that your event runs smoothly and that your guests have an unforgettable experience.
Tips for a Successful Fundraiser with Casino Games
Plan and Promote: Careful planning and effective promotion are essential for the success of your fundraiser event. Ensure that your audience is aware of the addition of casino games and the cause they will be supporting.
Set Clear Rules: Establish clear rules for the casino games and make sure attendees understand how to play. Las Vegas Tonight Inc can provide experienced dealers to assist with game play.
Prize Incentives: Offer attractive prizes for top players or high rollers to motivate guests to participate in the games.
Encourage Responsible Gaming: Promote responsible gaming and set limits to ensure everyone has a positive experience.
Share the Impact: During the event, share stories and testimonials about how the funds raised will make a difference. This can inspire more generous donations.
Conclusion
Fundraiser events in the Twin Cities of Minneapolis and St. Paul provide an excellent platform for supporting local causes and nonprofit organizations. By adding casino games like blackjack from Las Vegas Tonight Inc, you can elevate your event, increase donations, and create a memorable experience for your attendees. It's a win-win situation: your guests have a great time, and your chosen cause benefits from the increased contributions. So, consider incorporating casino games at your next fundraiser, and watch your event reach new heights of success.
CONTACT: LasVegasTonightInc.com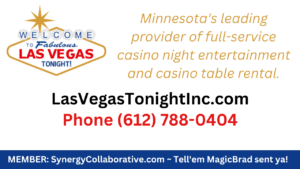 Tell'em MagicBrad sent ya!
💰 💵💰💵💰
PERK: Synergy Collaborative Partners get "Cash Back" when they attend select events. Learn more about Synergy Collaborative PERKS, call MagicBrad at 612-242-6468